PUBLIC LECTURE
Tuesday 9 December 2014 at 7 pm, Thomas Davis Lecture Theatre, Arts Building, TCD
Professor Stephen Howe will deliver a public lecture entitled

Ireland & Empire Revisited: Imperialists, Colonisers, Settlers, & Revolutionaries
Admission Free
All Welcome
PUBLIC LECTURE
Monday, 13 October 2014, 18:00, Graduate Memorial Building
A debate to mark the bicentenary of the birth of Thomas Davis on 14th October 1814, organised by the Centre for Irish-Scottish and Comparative Studies in association with the College Historical Society.
Speakers Patrick Geoghegan, Sharon Webb, Gavin Finlay and Ciaran Brady, will consider the question 'Why was Thomas Davis so important?'
How is that a young journalist who died in his bed of natural causes at the age of 30 became one of the towering heroes of modern Irish nationalism? Thomas Davis was born 200 years ago this month, and to mark the bicentenary a group of historians will debate why Davis was so important in the shaping of Irish political culture. Was it Davis's message (an inclusive trans-denominational nationalism), or the medium (his weekly paper, 'The Nation'), or simply the timeless power of his political ballads that has given Davis a place on the pedestal beside Wolfe Tone and Robert Emmet?
EVENT
Scotland's Past and Futures Explored, 8 September 2014
As a contribution to the debate on Scotland's future and the likely impact of constitutional changes within Britain on Ireland, a conference was held in the Trinity Long Room Hub and Royal Irish Acdemy on September 8th 2014, ten days before the Scottish Referendum.
SOURCE
A Record of the School of the School of Engineering
A Record of Past and Present Students
PUBLICATION
Irish classrooms and British empire. Imperial contexts in the origin of modern education
Editors: David Dickson, Justyna Pyz, Christopher Shepard, Dublin: Four Courts Press
This Collection of 18 chapter is drawn from papers delivered at the "Education and Empire Conference" in Galway, June 2010.
_______________
PUBLICATION
Barry Crosbie, Irish Imperial Networks Migration, Social Communication and Exchange in Nineteenth-Century India (Cambridge 2011)
More details on the publisher's website
PAST EVENTS
LECTURE SERIES
Ireland and the British World - TCD Nineteenth-Century History Series
April-May 2012
Click here for details
Irish Elites in the Nineteenth Century
Institute for Irish Studies
University of Liverpool 30 June – 01 July 2011
Convenors: Ciaran O'Neill (Hertford College, Oxford)
and James H. Murphy (DePaul University, Chicago)
The Trinity Long Room Hub
Trinity College Dublin
Thursday 16 to Saturday 18 June 2011
Organiser: Dr Peter Crooks (Trinity College Dublin)
Speakers include:
Bernard Bachrach, Minnesota • David S. Bachrach, New Hampshire • Michael Broers, Lady Margaret Hall, Oxford • Nicholas Canny, University College Galway • Fred Cooper, New York University • John Darwin, Nuffield College, Oxford • Patricia Ebrey, University of Washington • John Gillingham, London School of Economics • Chris Given-Wilson, St Andrews • Jack P. Greene, Johns Hopkins• John Haldon, Princeton University • István Kristó-Nagy, Exeter • Timothy Parsons, Washington University in St Louis • Len Scales, Durham • George Steinmetz, Michigan • Chris Storrs, Dundee • Michael Whitby, Birmingham • Sam Whimster, London School of Economics

Organized by the Irish Chancery Project, Research Centre for Medieval History, Trinity College Dublin
Funded by the Irish Research Council for the Humanities and Social Sciences
Download the full programme for the colloquium
Networks of Learning
Ireland and Empire in the Long 19th Century
Trinity College Dublin, Long Room HUB
Saturday 6th November 2010
Click HERE to download programme
To register, please contact: Justyna Pyz
Exhibition
Irish Travel Writing and the Nineteenth-Century World.
Trinity College Dublin, Long Room HUB
Saturday 16th October 2010, 9.30am - 5.00pm
Click HERE to download programme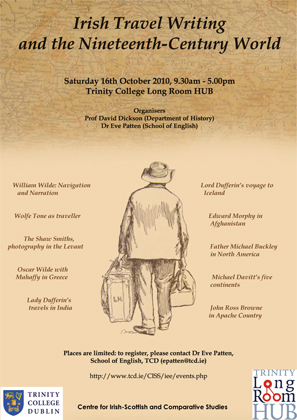 Click HERE to download full size poster (90MB PDF)
Education and Empire
The Sixth Galway Conference on Colonialism

National University of Ireland, Galway
24th -26th June 2010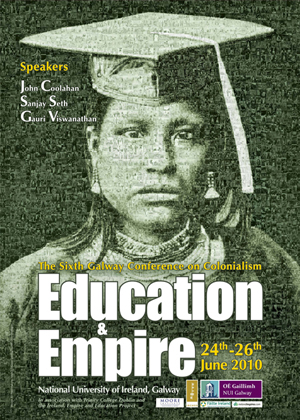 Click here for more information
Colonial Connections
Ireland, India & Education
Chester Beatty Library, 11th October 2008
27 May to 03 October 2010 Long Room, TCD Library
See the Exhibition online: Nabobs, Soldiers and Imperial Service: the Irish in India
Please send comments about our website to: